When my husband Stephen proposed to me on safari, on the Equator, in Kenya, you'd think I would've caught every.single.word. that he said.
HOWEVER, because of the location where he proposed, I was preoccupied with why the ring was placed in the wild African plane for any roaming animal to stomp or tourist to steal.
Sweet Steve is on his knees pouring his heart out with a cut-out of Africa behind him and I'm only thinking, "HOW DID THAT RING GET THERE?!".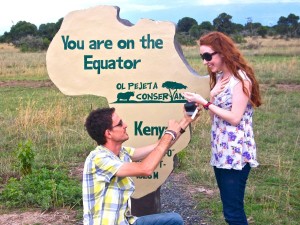 I managed to finally get out of the administrative part of my brain and tell him, "yes!"
I quickly found out that his buddy, Sach, who was with us placed the ring behind there right before we started taking pictures. I was shocked!
Now I had a ring with two rubies, a diamond, and yellow gold on my hand and it was a little loose. What a special gift though. I'll have to tell the whole story of what happened with this ring later and how God spoke to me, BUT the point for now was that it was a special gift.
A symbol of our lives about to start together–forever.
No more thousands of miles separating us.
I cherished that ring and never took it off once it was sized. I clung to it the entirety of my Africa trip as to not lose it.
Yesterday as I was sitting in a church service, I heard something in my spirit unrelated to the message. I began to think about what a gift the Holy Spirit is.
To have fellowship with the SAME spirit that raised Jesus Christ from the dead. 
To have the ability to communicate with the Father and Son and reveal all things to our spirits here on earth!
WOW!
Jesus said when He left the earth that He wouldn't leave us as orphans, or those without guidance, but that He would "come to us" (John 14:18).
TO be perfectly honest, in that moment, I was thinking about how much I'd let the BEST gift ever given to me get pushed aside recently. I clung to my wedding ring more than the gift of Holy Spirit!
How could I treat the Holy Spirit as a sideline gift while taking care of more material things like my wedding ring, my car, and other possessions? 
Friends, He is our best gift. And it is the best unused gift in this generation.
Our generation doesn't need more material possessions or titles and positions. It needs a move of the Holy Spirit.
We have access to the greatest gift on Earth! Not to hide Him away or forget about Him, but to display Him in and through our lives. To strengthen us and reveal more of the love of the Father and Jesus to us.
Take some inventory today and ask yourself if the best gift you could ever or have ever received being used less than intended :)
---
 Question(s) of the day;
What measures have you taken to keep a precious gift from being lost, ruined or stolen?
How can you guard and maximize your gift of the Holy Spirit? If you haven't received the gift of salvation start here ;
Say: "Jesus, I make You the Lord of my life. I've sinned against you and I receive Your cleansing blood, Your work on the cross, and Your resurrection from the dead. I turn from my sin and I give my life fully over to You. Come and live on the inside of my heart, mind, emotions and take over my will.  Fill me with Your Holy Spirit. I love You–thank You for a new life in You! I receive Your love, Your mercy, Your forgiveness, and Your best gift ever–Holy Spirit. Amen" :) Congratulations!!! You now have the best gift EVER AND the gift of Him being with you always and forever!
Scripture(s) of the day;
But the Helper, the Holy Spirit, whom the Father will send in My name, He will teach you all things, and bring to your remembrance all things that I said to you.–John 14:26
But when the Helper comes, whom I shall send to you from the Father, the Spirit of truth who proceeds from the Father, He will testify of Me.–John 15:26
Worship song of the day;