Yesterday SK and I braved the 3 hour trek "home" (not sure what that means anymore) to Missouri from Tulsa, OK. We had a couple of speaking engagements over the weekend  in Tulsa and we were glad to be "home" a bit.
Unfortunately, a lot of winter weather rolled its way through T-Town and Missouri causing a hectic weekend spent mainly indoors.
The news forecast on Saturday night revealed there was a lot of ice, hazardous roadways, and whole roads were closed off, like to where my in-laws are staying!
When we went to bed that night, we were unsure if we would be able to drive home the next day.
The forecast was calling for more "winter weather" (which in Tulsa could mean anything and everything) and it looked like we could get stuck.
Sunday morning rolled around and the temperature rose so the ice melted! Wooohooo!
We attended a church service, hugged some of my family super quick, went to an appointment I had scheduled, and hit the road!
3 hours later we found ourselves back at "home" unloading our infamous suitcase and grabbing some groceries.
Recently, I've felt "stuck" in many ways.
Stuck in the USA, which no offense, I LOVE my country and the people here, but I want to be overseas.
Stuck with medical issues.
Stuck with being isolated in yet again another new city.
S T U C K, stuck, STUCK! 
God has been so sweet to meet me in this "feeling" and bring truth.
When we misplace something, we might initially feel loss and sick to our stomachs.
However, when the item that was perceived as lost is then found, we rejoice and forget the stress of misplacing it.
We don't get stuck in the anxiousness of searching for something because we've already found it. Our emotions have MOVED ON.
This is proof that we don't have to be stuck in something.
YOU ARE NOT WHAT YOU ARE GOING THROUGH! 
You are not stuck in sickness, in debt, and sin.
Jesus wasn't STUCK in the grave, and because He ROSE again, you can find new life and move forward into what God has for you!!
Some of you feel like there are impossible circumstances surrounding you and you'll never make it out if it.
I realize the weather story isn't as challenging as a long-term illness, broken marriage, or other tumultuous circumstances, BUT things aren't always what they seem.
What others and yourself may have believed is the end of the story and you're facing the "facts", Jesus is the author of your story and He says it's not over!
There is victory for you and breakthrough out of the "winter storm" you might feel stuck in! 
There. is. hope. for. you. in. Jesus.
You're NOT stuck! There's hope for tomorrow!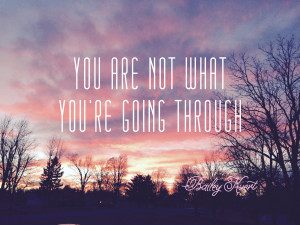 ---
Question(s) of the day;
Do you feel stuck? If so, what is holding you back?
How do you think Jesus sees your current situation?
Scripture(s) of the day;
And we know that all things work together for good to those who love God, to those who are the called according to His purpose.–Romans 8:28
I lift up my eyes to the hills– where does my help come from? 

My help comes from the LORD, the Maker of heaven and earth–Psalm 121:1-2
He also brought me up out of a horrible pit,
Out of the miry clay,
And set my feet upon a rock,
And established my steps.–Psalm 40:2 
Worship song of the day;
"Come away with me, come away.
It's never too late, it's never too late,
it's not too late for you.
I have a plan for you, I have a plan.
It's going to be wild,
it's going to be great,
it's going to be full of me
Open up your heart and let me in"
Thanks for stopping by! Feel free to comment below or share with friends :) Praying you're encouraged to move forward into what God has for you! It's going to be great!