WELCOME to my behind the scenes "tour" of the new Magnolia Market and snapshots of my view from the front row of the grand opening and #silobration! 

When I opened my email one morning in late August, I was ecstatic to see that Magnolia Market was having a big celebration for their new store opening! They were calling it #Silobration and I knew I wanted to go so I bought two tickets immediately.
My sweet husband was already scheduled to run in the Tulsa Run that weekend, so as much as he wanted to join me he couldn't. As you can tell below, he's a fan of the show. Chip inspires him to be his goofy self.
Though many wanted to come with me, a friend whom I hadn't seen in 8 years named Tana got to join! She drove down from Fort Worth and picked me up at the airport on Thursday afternoon.
October has unofficially been "HGTV" month for me since our Madagascar House Hunters International episode aired for the 1st time early October. It was a dream to end the month here in Waco.
Magnolia Market officially opened that Thursday morning at 11am with a ribbon cutting ceremony. We joined not too long after around 3pm. The store wasn't crazy busy and it was nice to take our time and look around at EVERY. LITTLE. THING.
I walked in and *sighed* at the beauty of it all! I would decorate with everything if I could.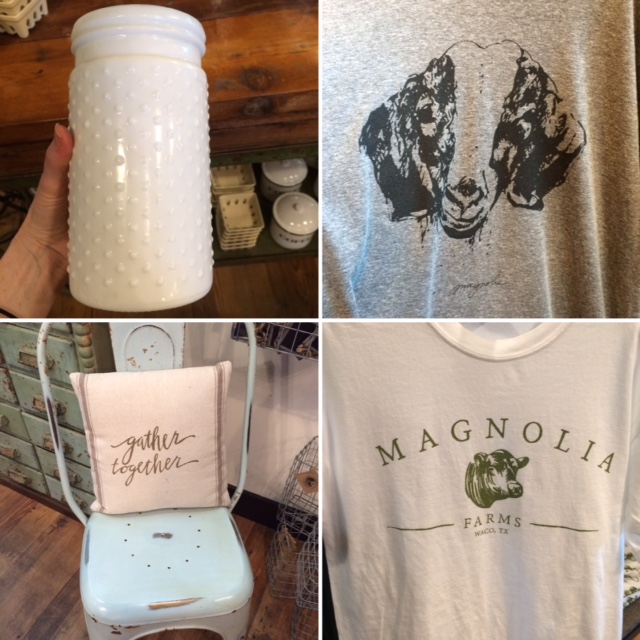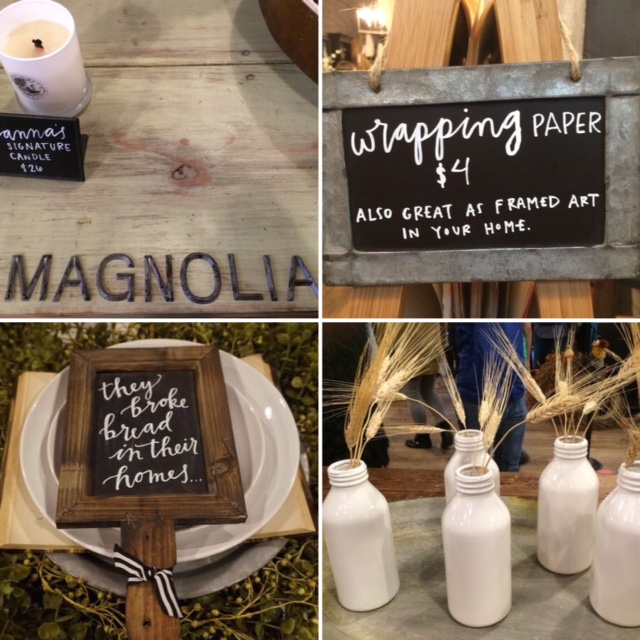 After purchasing a few small items and grabbing both Stephen and I shirts, we left the store area.
Outside it was clear and sunny skies so we seized the opportunity to take some pictures before the rain that was forecasted the next day.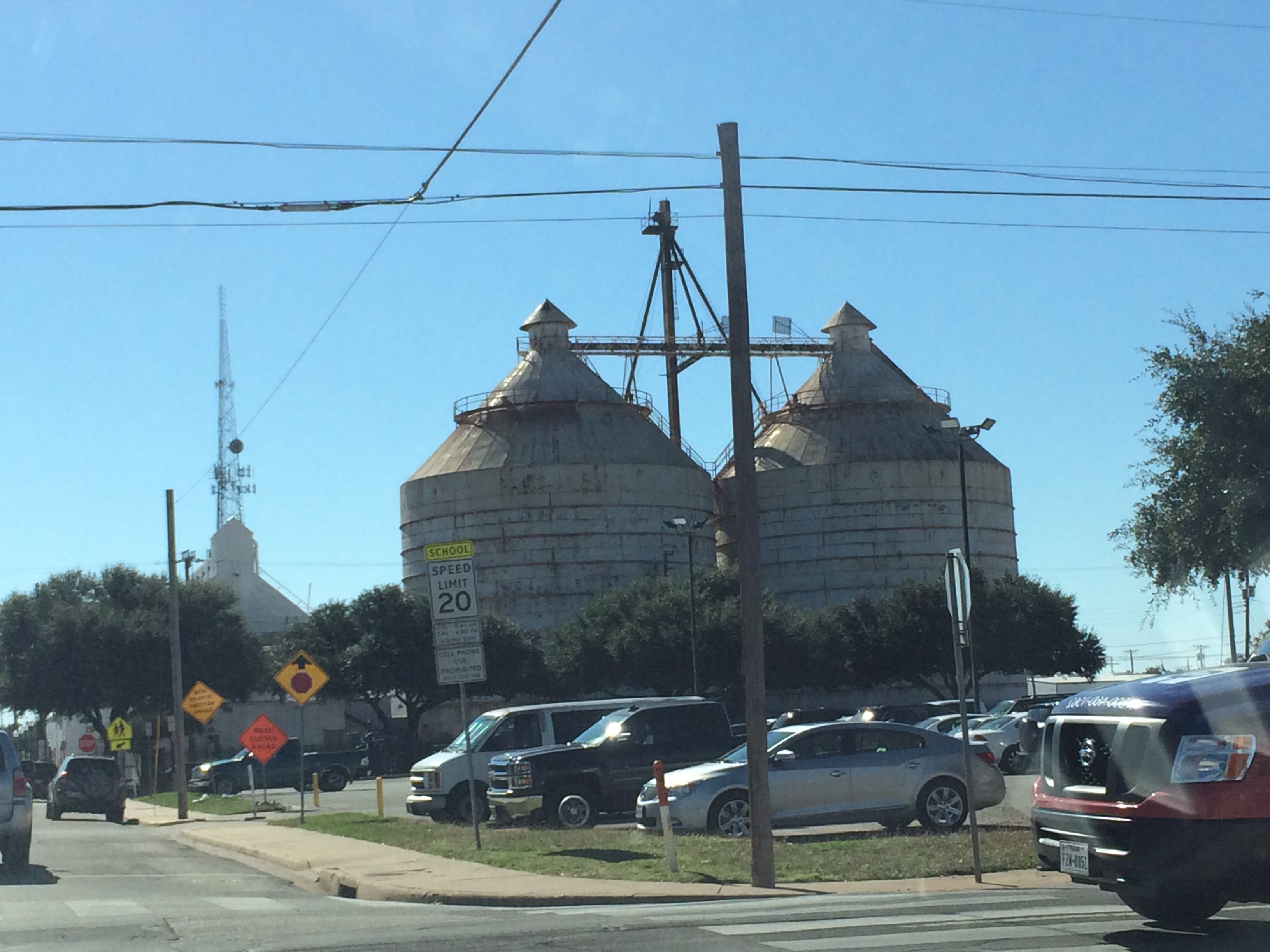 As we snapped pictures, I turned around and saw Chip Gaines standing right behind me. I had been taken pictures with him in the background and didn't know!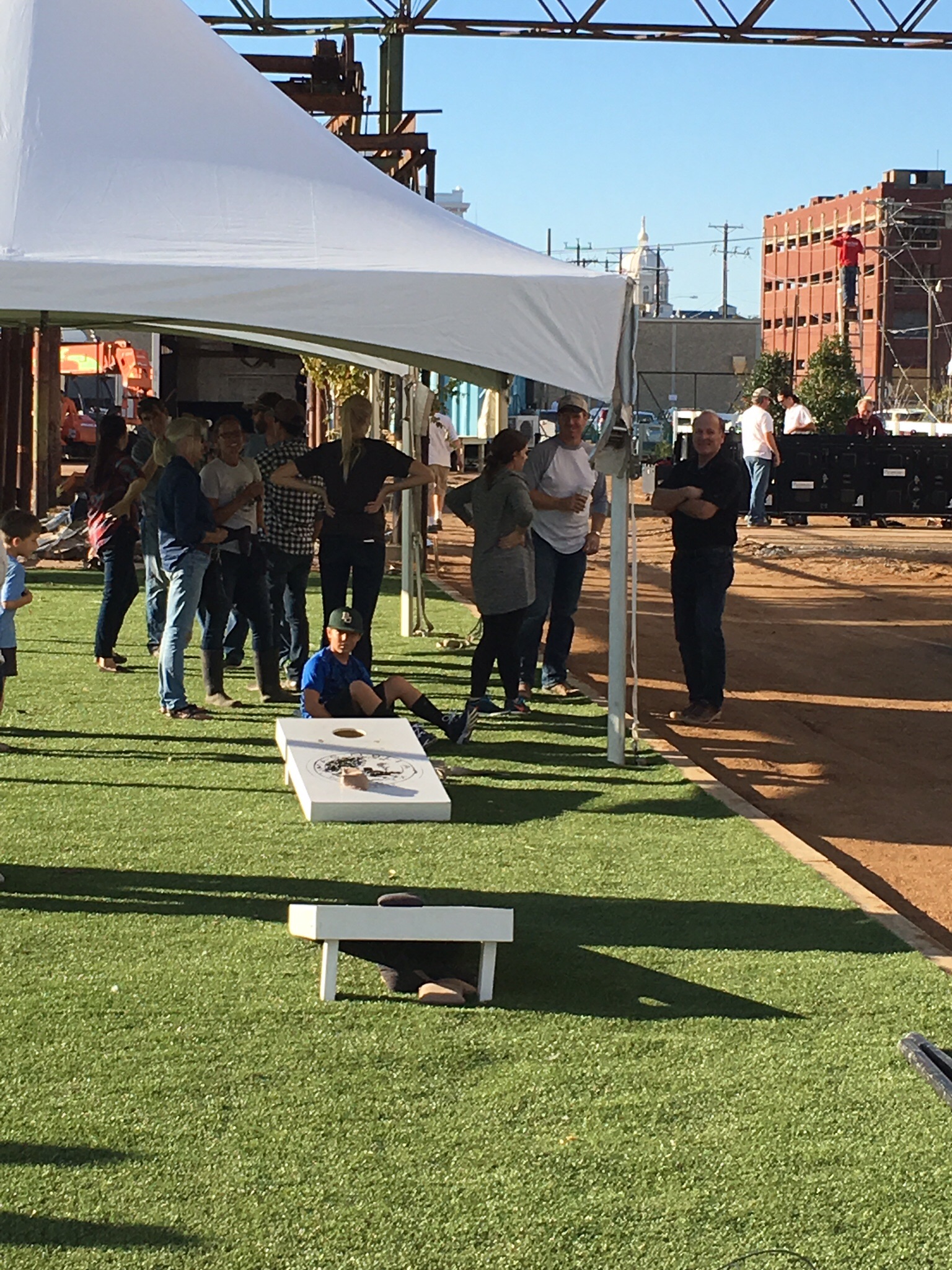 But then I intentionally took this one haha! I DID look around for one of my role models Joanna, but I was still excited to see Chip a couple of their sweet kiddos!

BECAUSE I had no intention of interrupting him and was now embarrassed I was snapping pics and he saw me doing that ?
Tana said,"Come on! Let's go and say hi." So off I went and began with,"Hi, sorry to interrupt, I just wanted to say,'Congratulations'"! He was so kind and gracious and thanked us and asked if we'd be coming back for the grand opening the following night. We told him that we would and he said he looked forward to connecting. Very down to earth and appreciative. I'd wished the lovely Joanna was with him.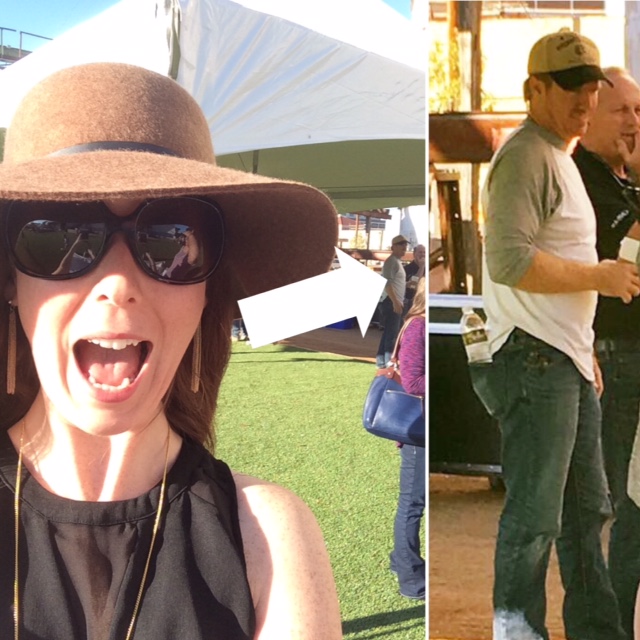 We explored Waco some more that day and tried our Ninfa's Mexican restaurant for lunch and D's Mediterranean Restaurant. Both were fairly good and I'd recommend them if you're in the area. We also visited Common Grounds coffee while in the area. (UPDATE: Torchie's Tacos and In and Out Burger are open less than half a mile away and on my second trip I ate there :) )
The next morning as we headed out to shop, (in the monsoon), we met Abner from Johnnyswim in our hotel lobby. He too was so kind and gracious and we all agreed we'd be praying for the rain to end or just be light for that evening. He was about to take a tour of the new market himself and a golf cart came for him…thankfully the rain lifted a bit.
We visited Harp Design Co. and I was shocked that Clint's actual house was right on the property as the store! Their house might be my favorite "Fixer Upper" due to the nature of all that was done!
The rain and storms grew stronger throughout the afternoon and there was even a tornado watch so we hoped and prayed that the outdoor events that evening would still be on.
As we left the hotel to walk to the silos, the rain was only slightly sprinkling!! Which was an answer to prayer AND we got a lift from a golf cart! Talk about feeling VIP!
Since we'd already been to the store, we entered the property through a short line skipping the long line into the market. Once we were inside the gates, we snapped a couple of pictures at night.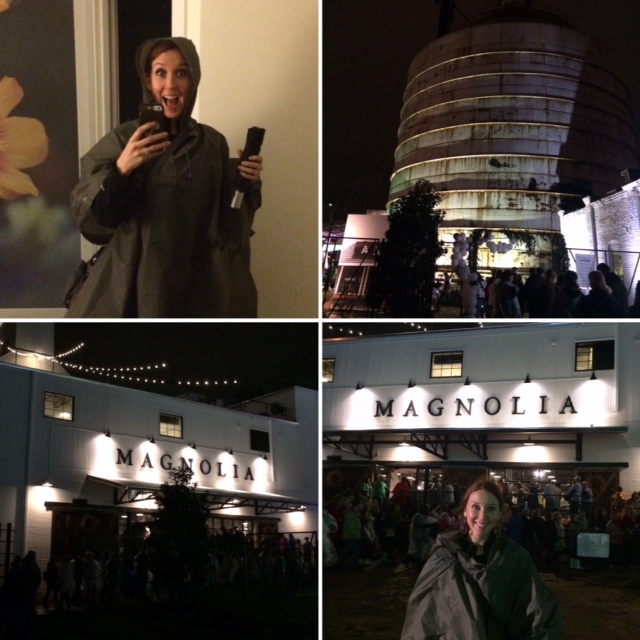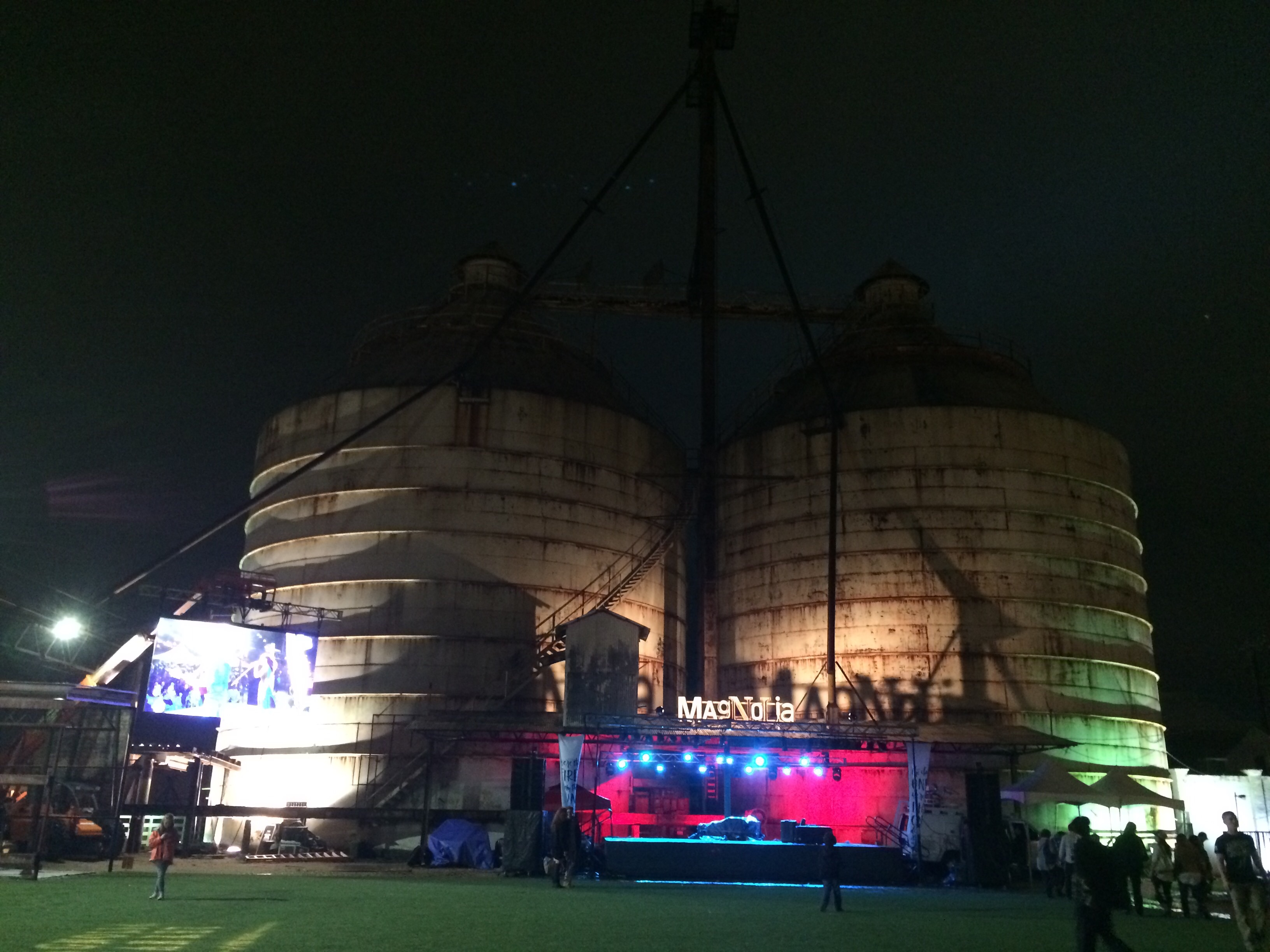 As we went for food, Johnnyswim was doing a sound check and announced they'd be back on in 5 minutes. We decided one of us should stay back before it got so crowded, so I stayed and held a spot on the front row. I was asked to sign a waiver for being on the front row and allowing the production company filming "Fixer Upper" to film me during the concert. I quickly text Tana to return informing her that we could eat anytime!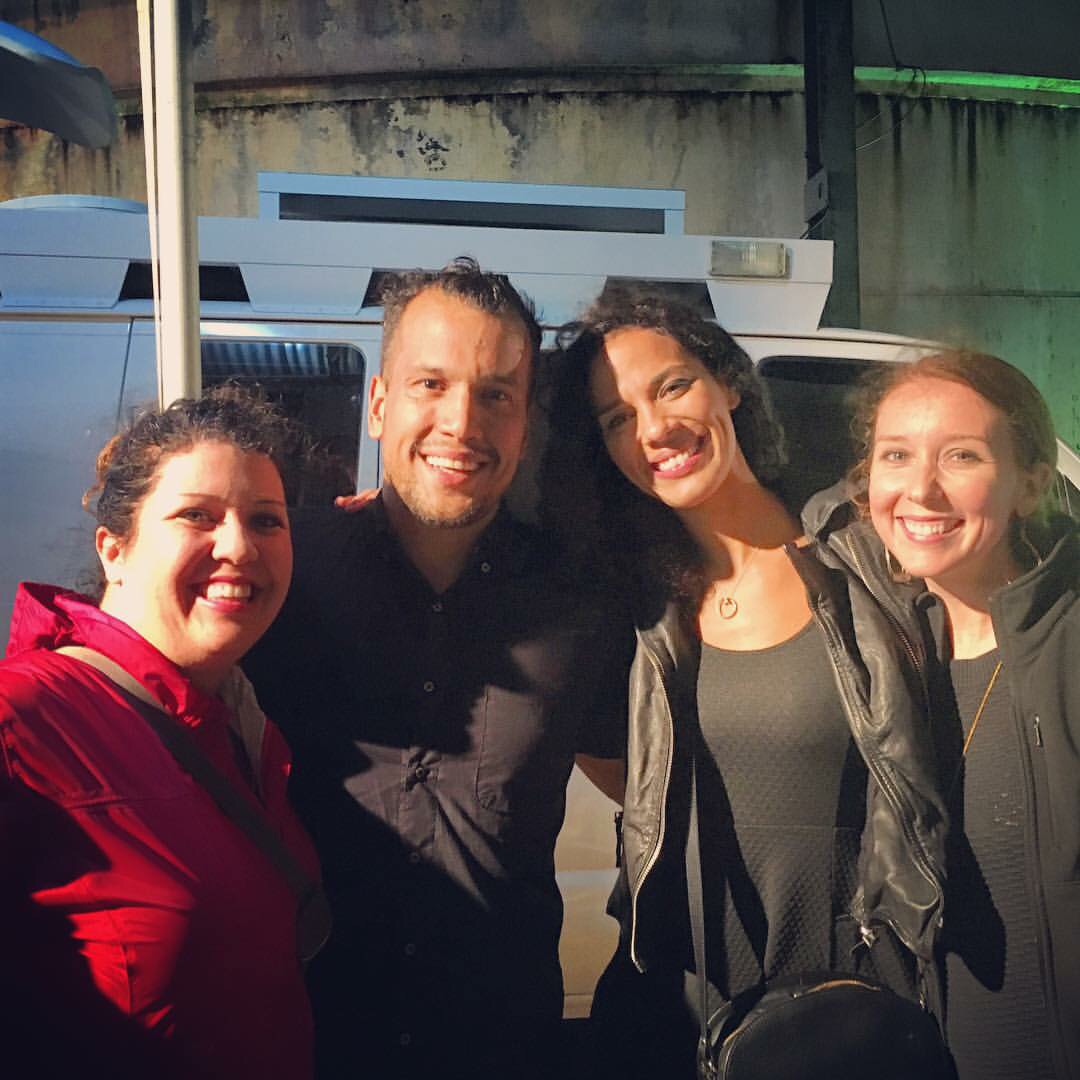 Johnnyswim was incredible and it was neat to hear them while being so close and with the amplification of the silos behind them!
When Chip and Joanna were scheduled to hit the stage, only Joanna appeared. Chip hurt his back the day prior and was "doing some back stretches" as we were told.
Later, he came repelling down the side of one of the silos because of course how could he be expected to enter the stage like a normal person? It was cute to see Joanna's reactions and laughter over her husband's crazy.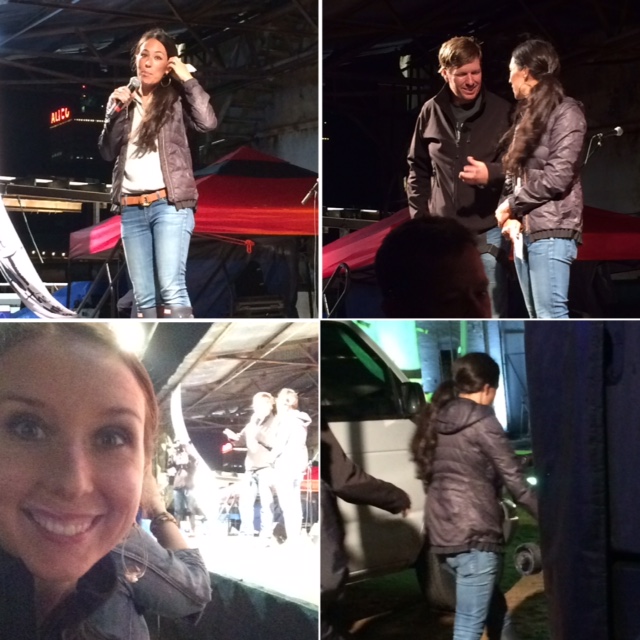 COMMITMENTS
The Gaines went on to thank everyone for coming and make some dedication commitments.
Chip made some serious remarks with interjected humor (of course–as would my husband). He started off with something about their first commitment was to their marriage and how when all of this began he was married to Joanna and promised the crowd that then it's all over that he'll still be married to her.  Then they made a second commitment to their 4 kiddos. He explained that they love invitations to come all over, but, "we are all in with this beautiful and business that God has blessed us with, we're all in our marriage and we're all in for these kiddos. So if you can just honor us with that in this season. We want to thank you for your support and you can trust us to be a good representation of each of you with this as we move forward…"
They celebrated the dedication of the new store by throwing Dr. Pepper bottles against the Silos!
They brought Clint Harp and Jimmy Don to the stage and thanked them for their support and partnership.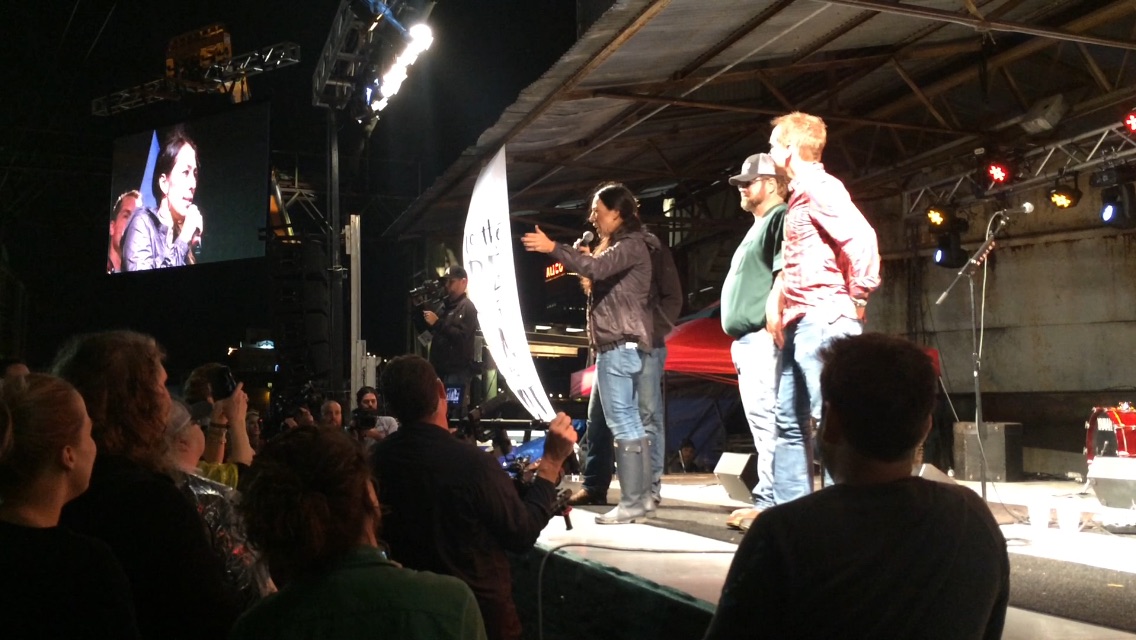 Then Joanna closed by thanking Chip for being such a supportive husband.
"I was happy just being comfortable in life. I could've literally had a job from 18-80 years old and been happy. One job. I was just one of those people who didn't want to take a risk. And every now and then when I was feeling good, I'd write out some business ideas and write out some business plans. When we first got married, he (Chip) saw those and he said,"Jo, in a year I want one of these done"…he's the one who pushed me with the wind at my back…it was our first year of marriage when Magnolia Market actually opened in 2003. Without that (motivation) I wouldn't be who I am today. I'm very thankful for a man who can get behind his wife's dreams."
It was beautiful and ended on a high note with the Gaines joining Johnnyswim on stage to sing the Fixer Upper theme song, "Home". I think it's safe to say that Chip needs to stick with his day job! It was quite fun enjoying from the front row!
The concert closed with my favorite JimmySwim song, "Diamonds" which I periscoped for Stephen.
I know I'm far from alone in being a fan of the show and the Gaines family. I think everyone loves a good restoration story.
It's why Clint Harp's home is one of my favorites.
To see such a transformation from something that was once beautiful and has lost its beauty being restored to its original glory hits a special place in everyone's heart.
We all want to know we have a second chance. An opportunity to turn around. A new coat of paint. And we can. This beautiful family has displayed this so well to the viewers across the world and I believe they're inspiring hearts to what really can be in their own lives.
They might never life in Waco and have a Magnolia home of their owns, but they can be made new. 2 Corinthians 5:17.
Thanks Chip and Joanna and the wonderful staff at Magnolia Market and volunteers! You made a weekend I won't forget and I WILL be back with Stephen soon!
Additional Links;
Joanna's Testimony
Local Interview about the Silos Grand Opening and Joanna's Tv Career before Fixer Upper– click here
Johnnyswim–Diamonds