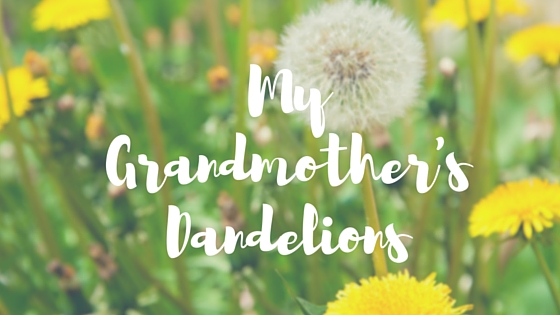 My grandmother, my mom's mom, sent me an email of a comic strip this week.
She's 88 and not only does she use an iPhone, Facebook, and Instagram, but she has a better memory than I do sometimes. Maybe this happens because she's fully present in a given moment and makes you feel like you're the center of her world. I always joke with her that she's not that old because my memory is worse than hers.
When I opened the comic, I had no idea why this was relevant. I asked her why she had sent it and she recalled an exchange between she and I a few weeks previously.
Most of my mom's side of the family had been in together celebrating Easter and some birthdays so we all went out in the backyard to take a family picture to capture the moment.
Upon coming around the corner from her patio, I noticed Spring had indeed sprung up with a bunch of dandelions scattered all over her yard.
I said, "Wow look at all of those dandelions!" which were literally everywhere. I said this in a negative way as I was thinking of the toil involved in removing them.
My sweet grandmother says as giddy and thankful as possible, "Oh…Thank you God!!"
Perplexed, I asked, "You're thankful for the weeds?"
She said, "Yes (giggled) they're beautiful".
The Hi and Lois comic she sent me had a little baby admiring the dandelions calling them pretty flowers and assuming that the mother must like them too because she was picking all of them. The mom is then shown gathering the weeds and quite flustered and complaining.
One saw the beauty in the evidence of Spring and another experienced the toil and nuisance of Spring.
I laughed that my grandmother remembered this and I wondered how I had forgotten it so quickly.
I assume if I had the perspective that she had that I would've remembered it because I would've been thankful like she was.
This made me ponder about how many times I've chosen to look at situations with an ungrateful heart and missed out on a moment to be thankful and to stop "smell the roses"( or dandelions as the case may be).
How many times have I acted old but not wise in my age? How many times do I not see with the simple faith of a child?
While I joke with my grandmother about truly being younger than me at times, I think that she has learned to have faith like a child. Even though there is a 59 year age difference where I am obviously younger, I often see things like the mom in the comic strip and instead of being thankful, I become frustrated.
After the exchange between my grandmother and I, my youngest cousin picked up a dandelion that just had seeds and blew it all over the ground.
Yes, that created more dandelions if they took root, but she seized the moment to be thankful too and created a memory instead  of losing a moment like I had. 
This little reminder with the dandelions is helpful to slow down and see the beauty even in things that are annoying and will require a little extra effort.
If you're anything like me, stop and appreciate the small things of beauty. I immediately saw a task that needed attention instead of the fun and beauty that dandelions can produce. I forgot a moment with my precious grandmother when she savored that moment.
Also, if you have dandelions, once you've admired them, then go get your lawn mower or some weed killer because clearly your yard needs some attention ;-)
Happy Spring!