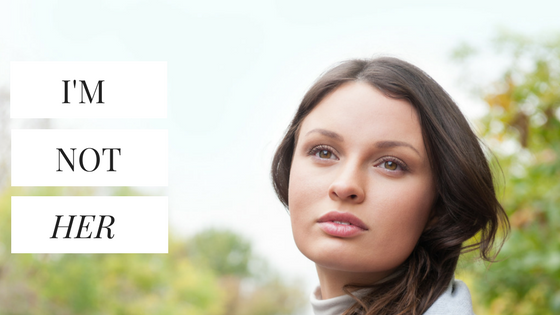 I'm not her.
Her. The one with the summer-ready bikini wearing body.
I'm doing good if I buy a new bathing suit that fits.
Her. The one who has meal plans and carefully prepares the healthiest choices for her family and grocery shops within budget.
We travel so much and honestly, Stephen and I both agree that he is a better cook. 
Her. The one who never complains no matter the struggles in her life.
Hello! Is she plastic?! Does she not ever bang her funny bone and scream? 
Her. Who rises early every day to work out and pray.
Cheers to you lady, my time with Jesus is often midnight, not 5 am. Unless of course I'm in another time zone and it's 5 am back home ;-) 
Her. The one who stays calm and only speaks kind things.
You, my friend, are a CHAMPION! Maybe it's my red hair, but sometimes the passion I feel about life is, well,…not so calm.
I basically just described the modern-day Pinterest Christian woman and can I just say upfront that I am NOT her. 
We all have at least one person who comes to mind when you think of someone who has it all together. There can even be aspects of several women that make up an ideal person in your mind. I know I have names that come to mind.
I believe one of the greatest distractions of our generation is rooted not just in comparison, but by not appreciating who we are.
When we don't appreciate what we have, we appreciate and idealize what others have.  
This causes confusion and unhealthy relationships on so many levels. 
I've seen many social media posts of friends who I think are incredible say things that ultimately convey that they don't feel like they're doing enough or that they're caught in this comparison trap.
While I don't think there is wisdom in broadcasting these type of comments to the greater social media world, I haven't been surprised when I've read them. The truth is many of us feel that way even if we aren't posting about it.
I've even had some people comment on my social media posts and assume my life it altogether lovely when they're only seeing small glimpses into what I refer to as #MyKuertLife.
Without going into the crazy details of what is wrong with my life at times to spare sounding like I'm complaining (because the ideal "her" wouldn't do that ;-) ), these people don't really want my life because there's only grace for me to be me. And I don't really want to be "her", whoever she is because I'm not graced to be her. 
When I'm trying to be someone else, I can never fully be myself.
Last fall marked four years of marriage for Stephen and I and it was an exciting little milestone in our little journey together. However, along with that fourth year, it marked four years of not being in good health as it correlated to a car accident and prevailing issues. I honestly fell into a funk for a few weeks.  
We were traveling a lot, Kibibi Design was taking off and succeeding, and even though I felt like I was able to truly dream again, I felt discouraged by physical limitations. I was weighed down by negative comments from others and I desired some routine and familiarity in my world. 
One morning I decided to have a pity party. I was complaining internally and telling myself how unfair things were and how alone I felt in my physical pain. I wished how I could sleep through just one night without waking with urinary pain and struggling through days with other complications. I was doing a pretty good job at feeling awful for myself in my self-absorbed world.
Then I heard the louder than loud voice of God speak and say, "Bailey, don't I give you grace for every day?". And as He often does by asking me rhetorical questions, I was silenced by His question.
Yes, there was a real pain I faced most days and He was not invalidating that.
Yes, there has been some real injustice at times and He was in no way ignoring that. 
He was just bringing to my attention a much-needed reminder that He was giving me fresh grace to face every day for the ups and downs that my life encountered.
My struggle was because I wasn't aware and thankful that there was grace extended for me to be who God created me to be even in difficult situations. God gives me grace for my shortcomings and to deal with the health issues I've faced. He also gives me the grace I need to use my strengths of administration, creativity, and connecting with people.
This realization caused me to have joy, TRUE joy whenever I faced these trials. One might think that because I know the words that James, the brother of Jesus opens his book of the Bible with that I'd have already walked in this profound joy. However, just because I have scripture memorized and have taught on it, doesn't mean I truly KNOW it or apply it to my life. 
James says, "Count it all joy, my brothers, when you meet trials of various kinds, for you know that the testing of your faith produces steadfastness. And let steadfastness have its full effect, that you may be perfect and complete, lacking in nothing." James 1:2-4
I wasn't facing every trial or pain with sorrow and discouragement, but some days are definitely harder than others. I wasn't even struggling with comparing myself to others so much, but I often assumed that I "should" be doing this thing or that thing. Others told me I "should" be "her" and I let myself believe them and the lies I was telling myself.
In short, I was "shoulding" on myself.
I know that "shoulding" is not a real word and I'm fighting the red underline marks as I type, but it's definitely a Bailey word. Whenever I think that I "SHOULD" know better, "SHOULD" do better, I am "SHOULD-ING" on myself. And you, lovely one,  "should" on yourself and you "should" on others too. 
When we envy others or wish we had aspects of their lives, we don't factor in the grace that God gives to them to live those lives.
We automatically assume we would have the grace to be them and by aiming to be someone else, we negate the grace we have to be ourselves. 
Sometimes I can't do things that I could even just a few years ago because of new physical limits or the changes our job has brought our way. While that's frustrating at times, it's unfair to expect that I "should" be able to do the things I did before. I did those things before a lot of injuries to my body or when I lived in a consistent location with minimal travel. 
Often these thoughts have originated with someone else's opinions and their "shoulding" over my life and they have never originated with God. 
We have to be close to what He is saying in any given season so we don't get close to someone else's plans for our life. 
When I see others who have their well thought out meal plans and host dinners, I can't assume I "should" do that. I'm rarely ever home in my pre-furnished apartment. When people see me traveling and think they'd like to have that, they're not factoring in the sacrifices we've had to make.
Sure there are aspects of someone else's life that from a distance we think we would want, but we never can truly operate in their lives with the individual unique grace given to us. 
I stopped viewing "I'm not her" as a negative statement that projects a longing to be someone else. Instead, I say, "I'm not her" and I mean it as a positive statement because by not being "her", I'm allowed to be fully me. 
I'm not her because I'm me.


I'm not her because I want to be me.
I'm not her because only she can be her.
I'm not her because I am not graced for her life.
I'm not her because I'm only graced to be me.

You aren't "her" either because you're only graced to be you. And what a lovely "you" you  are!