Vacation to Zanzibar, Tanzania
SK and I went to Zanzibar in mid-July. We had been in Kenya for a long time doing medical appointments and needed a few days getaway to clear our heads. Things were getting tense here with terrorist attacks, so we thought we'd get out of Kenya if we could find something affordable. Not to mention we'd been FREEZING for a couple of months, so all of Kenya's tourist options nearby weren't appealing. SK was talking to a friend who happens to live in Zanzibar and he told us to come over and see him. Zanzibar is an island off of the coast of Tanzania and just so happens to be where William and Kate went on their honeymoon! Stephen used to pastor a church in Dar Es Salaam so he would often take the ferry over to Zanzibar on his off days or take guests there. He has a few friends who live there so we decided to check airline prices. We went to a Kenya Airways ticket counter and for $200 less/person, you could fly at inconvenient times for $233/person. We snagged those tickets and flew out the same day! When we arrived, a monkey greeted us :)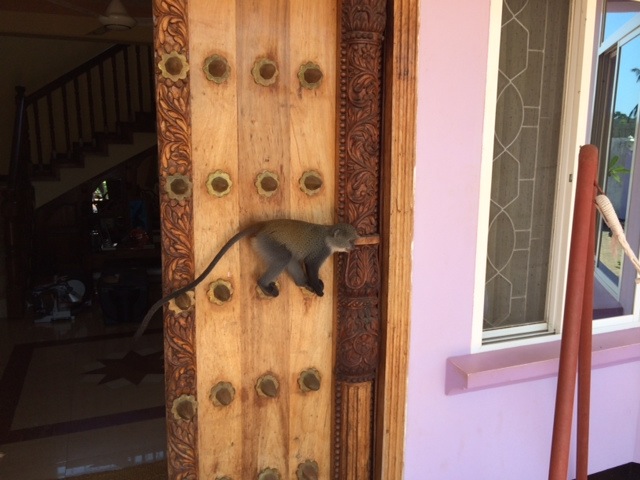 This is what a traditional Zanzibar door looks like. You can buy little doors to take home as decor in the market.
We spent time with some friends, shopped in historic StoneTown, watched sunsets, checked out a couple of beaches, and went snorkeling. Here's a recap of our trip in pictures and links for your info.
These are the places that we went to eat and our suggestions;
On Saturday we ate at a place called, "6 Degrees South", which we thought was so clever to use the latitude in their location. You can normally view the ocean from their patio seating, but because it was Ramadan, they had covered the open viewing area as most locals are fasting. Thankfully we were not and got to partake in some yummy meals a few times. There have affordable delicious food and we can recommend the Pilau, passion fruit juice, coconut water out of a coconut, and SK's favorite–the coconut banana milkshake! We went back one more time before departing.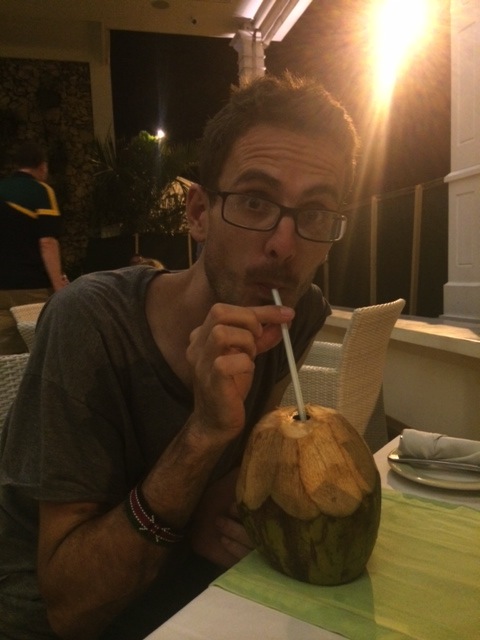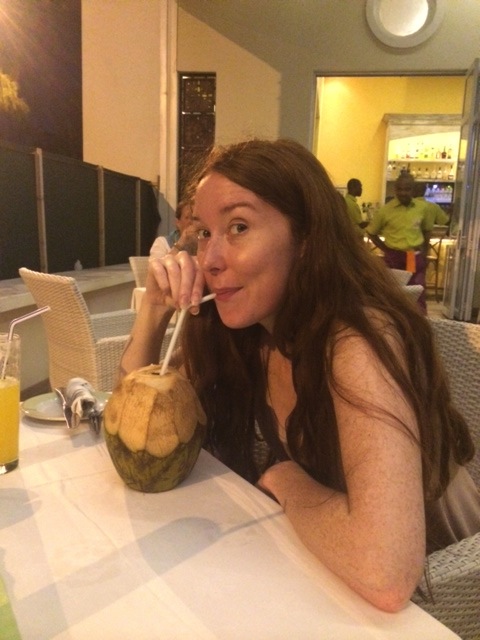 What would normally be your view while dining;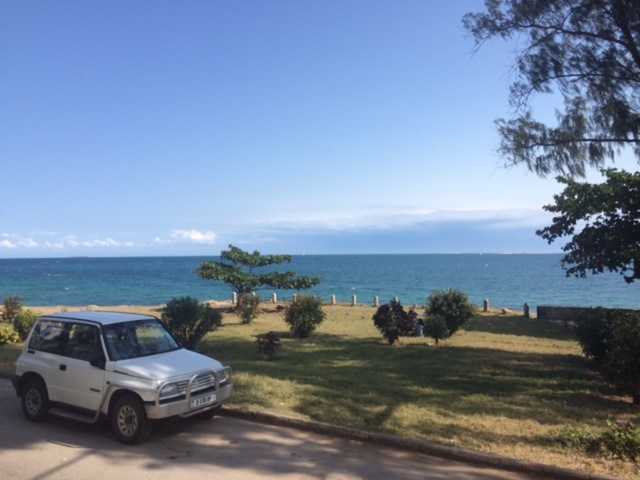 The next day we decided to eat food at this Ethiopian Restaurant
It's located in Stone Town and an easy walk to the market. We just wouldn't recommend the chicken. The taste was incredible, but nearly half of the meat was pure fat and you couldn't chew it. This was my coffee escape…*sighs*
That evening we just ate at the forodhani where they cook in front of you. The chicken shawarmas were incredible!!! Also, we don't eat gluten, but the Zanzibar Pizzas are quite an experience just to watch and nearly every stand makes them. If nothing else, grab a fresh fruit salad with your pick of fruit. BEWARE–there are a plethora of cats that will swarm your ankles for food!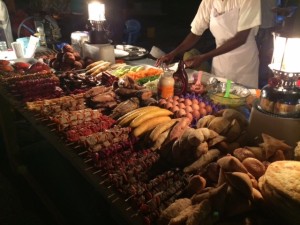 The following day we ate at the across from the food stands in Stone Town. Again because it was Ramadan, most places weren't open during the day and the restaurants didn't open until usually 7pm. EVERYTHING that I ate here was absolutely incredible! They had a deal where you could get 3 courses, a starter which I had an unforgettable ginger chicken salad, a main course, where I had Swahili Chicken Curry, and the a dessert which was some vanilla ice cream with fruit. I'm not joking when I say that it was one of the best meals that I have ever had! The ambiance is really neat too and on occasion they have live music. We sat inside on the floor on a low table top and cushions. It made for a really pleasant dinner with a local friend of SK's.
Places we explored;
Because we were only there for 5 days, we spent time with friends and walked through Stone Town most of the time. Our beach explorations could've been better planned, so here's what to learn from us!
On Monday per our friend's recommendation we drove down to Fumba Beach Lodge. This was a gorgeous and refreshing place to spend some time. They offered us a day pass as they weren't at full occupancy and just asked that we pay in lunch and drinks. The food wasn't great, hence why it wasn't listed in my food recommendations, but the hamburger I had wasn't bad :) It's about a 25 minute drive from Stone Town and a great getaway for the day if you want to sit near the pool. The beaches on this side of the island aren't thick, so there's not a lot of lying on the beach opportunities.
On Tuesday we had planned to drive to the northern part of the island. We took a friend of SK's with us, a local Tanzanian man and then we got pulled over by a cop. SK played dumb like he didn't know Swahili, but inevitably we were singled out because of having a local with us and we had a long interruption to our day plans. We ended up turning around and heading back south after an hour's drive because the cops would've kept stopping us and asking for bribes. So I quickly looked for signs to point to ANY type of beach view. I saw a sign for, "Sea Cliff", so we went and checked it out! Saving grace for the day–we again got a day pass and enjoyed this lovely resort. The food here was absolutely terrible, but was "all-inclusive", SO I drank 2 chocolate milks ;-) It was a bit more pricy at about $35/per person, but again if you love unlimited food and beverages, then it's worth the price. We just wanted to soak up the beach and since we had free lodging, it wasn't a bad deal. It's called Sea Cliff for a reason as it sits on a large cliff overlooking the ocean, so again not much of a beach. There is a small area of sand and a few beach chairs. It's quite expensive to lodge there and in my opinion, something up North or on the East Coast would be better worth for your money. UNLESS you love to see the sunset, because I'm sure it's amazing!
Lastly, on our last day we went snorkeling. We borrowed some equipment from a friend and off we went! Stephen had gone many times around Zanzibar in the past and it's one of his favorite things to go do. After a close encounter with a barracuda in Dominican Republic 7 years ago, it's not so much one of my favorite things.
Below are pictures of our time at the Fort and Stone Town. We loved our few days of getting away and enjoying warm weather–its warm year round, so if you're ever in this part of the world and want a nice place to go–the Kuerts and the Royal William and Kate recommend it!